Are you struggling with creating a decent tactic in Football Manager 2020? Then make sure to read this article. It contains my thoughts and views on how to build a simple and basic tactic for our beloved managing game. For this article i have chosen Rangers FC to be the team that i will be developing the tactic for.
We have finally arrived at the tactical side of Football Manager. For me Sir Alex Ferguson has had some influence on my tactical choice. His Manchester United side played fantastic in the past using a 4-4-2 formation. For me the 4-4-2 formation will be my tactical starting point. From there i can change the team into any formation during any match. All i need to do is keep my eye on the players attributes. If they fit in a certain role and position then i will definitely play them there.
Now i do not consider myself a tactical Football Manager God like for example Guido Merry from Strikerless but i have been playing these games for quite some time so i do know my way around the tactical kitchen. . This was very important because i always try to build a tactic in which my best players will excel. By anaylsing my players i now know my teams strengths and weaknesses.
TACTICAL STYLE – WING PLAY
Using Wing Play as my tacical style i will need to consider a few things. Most of the time my players will look to get the ball out wide as early as possible. While full backs look to overlap in order of exploiting the wide areas. Once the ball is out wide then the main focus will be on crossing the ball into the box. This tactical style suits my team very well. I have quite a few decent wingers in my team. With Tahith Chong, Ryan Kent, Sheyi Ojo and Jordan Jones i am well covered in the wingers section. I also have James Tavernier and Borna Barisic as my main full backs which is great. Both players are capable of delivering crosses into our opponents penalty area. So using a customized version of the Wing Play is a very wise choice for my team.
My setup for a Wing Play tactic

There are however a few things i have to take in account. In order for the Wing Play to work like a charm i need to use the right players in the right position. Most of my wingers have Player Traits such as cut inside from left or right wing. This is a nice trait if you want your wingers to do just that. But as we are looking for crosses from the wide areas of the pitch such Player Traits are pretty useless. This means that i will need to either remove those traits or i need to start using that specific player on the opposite wing. Another big aspect for this tactical style to acutally work are my strikers. All three of them are shitty headers. This means that i will have to make sure that my wingers only cross the ball low into the oppositions box. Only then our attackers will be getting onto those crosses and i might be able to see them score some goals off of it.
MY TEAM INSTRUCTIONS
As i am trying to build a tactic which will become legendary i first need a solid starting point. After some time has passed i will start to edit this tactic until i reach a point at which i am satisfied. So any and all instructions i have chosen for now might be completely different in two to three seasons in game. The mentality which i have chosen is the balanced one. By using a balanced mentality i will be able to change it during matches to either a more offensive or defensive mentality. This way i can manipulate games by simply changing my teams mentality.  When my team has possession of the ball the settings as seen on the screenshot on the right side will be used. I have chosen for an Extremely Wide attacking width. This needs to give my wingers and full backs the space to move into in order for them to get crosses into the box. I reckon that most other settings speak for themselves.
When we are in transition it is very important that we use a couner attack style of play. So i want my team to counter press once we lose the ball. As soon as we win back the ball i want them to counter towards our opponents penalty area. When my goalkeeper has the ball he needs to distribute it quickly to my full backs. As we are focusing our attacks via both sides this will be the quickest way off getting the ball into an area from it can be crossed into the box. And when we are out of possession we will be using a more urgent pressing intensity. I am also using a standard defensive line and a higher line of engagement. Why did i not choose for a much higher line of engagement? I want to see some space between my opponents defenders and their goalkeeper. When and if this happens my playmaker needs to pass the ball over the top. The purpose of doing this is simple, i need them to create one-on-one chances for my strikers.
HOW DOES THIS TACTIC WORK IN FM20?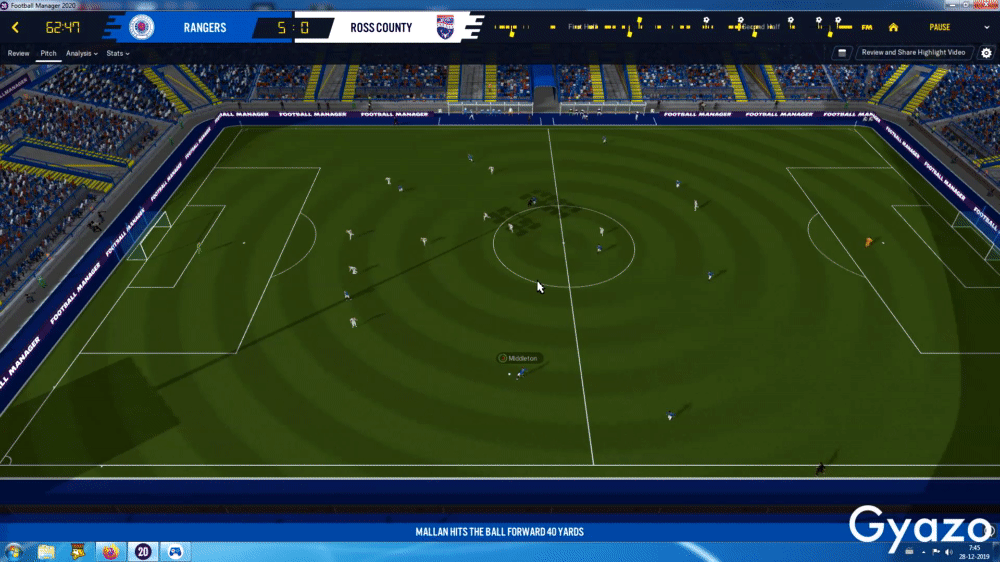 As you can see in the clip above my left winger (Middleton) cuts a bit inside. He then passes the ball to the right winger (Kent) who crosses the ball into the box and finds Brophy who manages to score.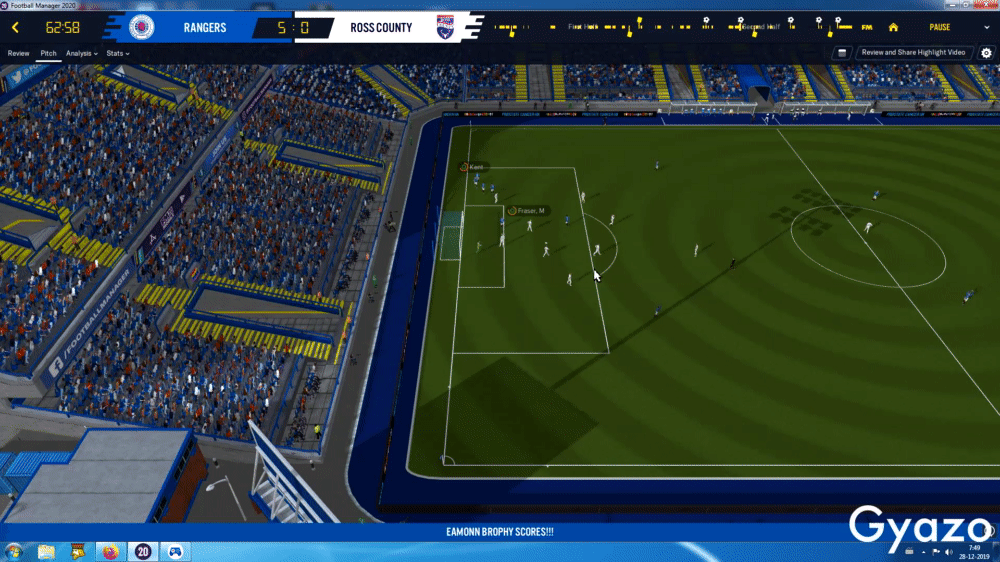 This time from a free kick on the right side of the pitch. Tavernier my right full back passes it over the top. Ryan Kent crosses the ball to the far post and again Brophy manages to score a goal.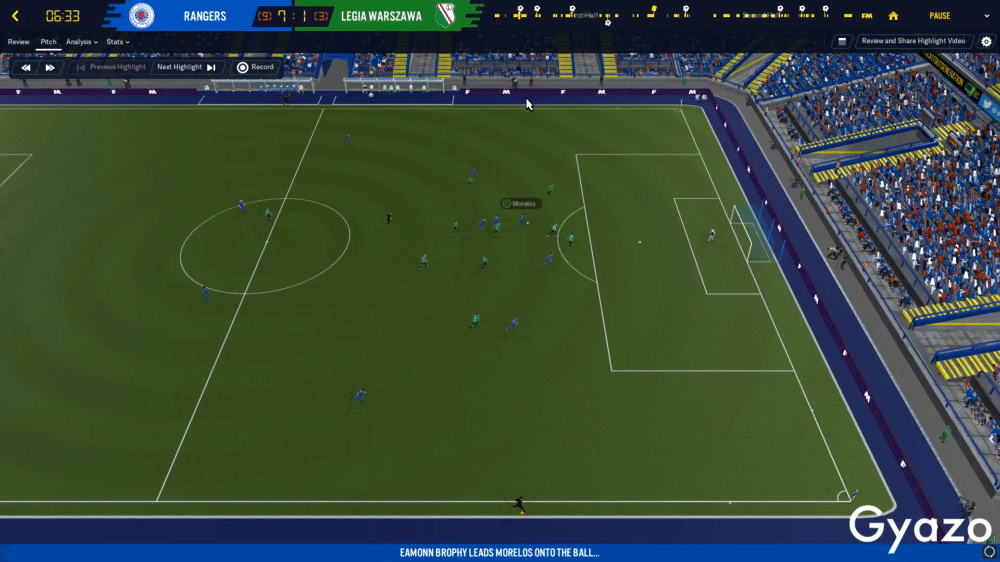 After a mistake from Legia Warszawa Morelos dribbles with the ball to the left side of the pitch. On the right side you see Jack running into the big gap that arises. The one on one gets finished off very clinical. When you look at the clips above you can clearly see that the intentions i have with this tactic are working. I am very glad that my players are capable of executing my ideas.
THE TACTIC SETUP
One thing we have not covered in this post is my tactical setup. As i've stated earlier in this post a basic 442 formation is my blueprint for succes. When building such a tactic i always start at the back. The goalkeeper and the defense is where it all starts. Due to the fact that we are not pressing up very highly i had the choice to go for either a normal goalkeeper or a sweeper keeper. Now as i want to score from counter attacks the most logical choice was the sweeper keeper. With his support duty he will stray just outside his penalty area and will look to play counter-attacking passes. My backline exists out of four defenders. Two full backs with a support duty and two central defender with a defend duty. Both full back roles sometimes get changed to complete wingbacks but that depends on the opponent we are playing. I think it is very clear that both central defenders need to neutralize the opponents striker(s) and attacks while my full backs will need to make supportive runs, passes and crosses.
When you look at my midfield you see that i use two wingers with an attack duty. They need to make rushes, skip past their man and deliver crosses into the box. And at times they also may cut inside to cause havoc in my opponents defence. In the middle i have chosen for a deep lying playmaker with a support duty and a box-to-box midfielder. The playmaker will be the key to this tactic. He needs to initiate attacking moves and he also needs to bring the ball out of defence. The box-to-box player will be my "runner". He will need to contribute both defensively as offensively. Moving players are always hard to defend so i expect quite a lot from both my midfielders.
Upfront i have chosen the best roles and duties for my strikers. Eamonn Brophy will be the attacking forward. His job is to score goals, chase down misplaced through balls and he needs to spearhead our attacks. His partner Alfredo Morelos will be used as a pressing forward with an attack duty. His job is to score goals, put pressure on the oppositions defence in order to prevent them having too much time on the ball.
CONCLUSION
I guess most people understand my intentions with this tactic. As you have seen in the clips the players are able to execute my tactic perfectly. I am very curious to see which results i will be getting with this tactic in the next few seasons. It is always a challenge to find the right players for your tactic and that is going to be my biggest struggle. But as i am also focussing on developing youth players that could be key for this tactic to work several seasons in a row. For now i want to thank you for reading this post. In the next one we will be taking a look at our season one peformance.